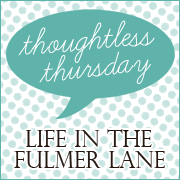 I'm linking up with Katie over at
Life in the Fulmer Lane
for Thoughtless Thursday! TT felt like an appropriate thing for me to link-up with today because today has been extremely thoughtless!
Tom is on his way back from Baltimore (he said his interview went well...yay!) so I just hung around the house today with his little brother Trevor...
We did head out to Target earlier to grab a few things and get a treat at Starbucks (and a treat for one of you lovely readers in an upcoming giveaway!). I did get a little bit sad that they have back-to-school supplies out...this is the first year that I won't be buying any :-(
Here are some of the things that I got today at Target...
A new calendar since my Lilly Pulitzer calendar "expires" this month, Trolli Sour Gummy Worms (my candy of choice) for our car ride up to Maryland tomorrow, and a cute composition notebook to write a blog "how-to" for my aunt's new blog that I'm designing for her to write about her life as well as sell her cute decorative canvas boards (more on that later!!).
That's it...it has truly been a Thoughtless Thursday! Go link up for Thoughtless Thursday!