I decided to create a weekly link-up for everyone that is constantly bookmarking pictures of celebrities that serve as style inspiration for future outfits. I know I for one have huge files on my computer of celebrities that I love and styles that I want to try. If you follow me on Pinterest, you have probably seen my board called "Celebrity Style File" where I pin every celebrity style that I am loving and itching to re-create!!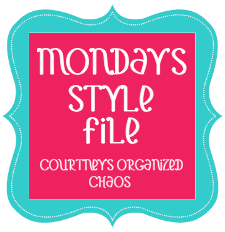 This week I'm featuring Mila Kunis.
I love that she can dress completely sexy, but some aspect about what she is wearing makes it still stay sweet and wholesome. She can do a plunging neckline, but in a soft pastel color and its not too sexy...it's just right.
To see all of the celebrity styles I love, check out my Pinterest board!
Now, grab my button, link-up, and show us the celebrity style that you are loving this week!