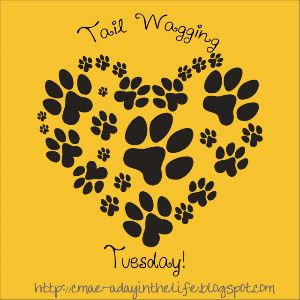 I'm linking up with C Mae again this week for Tail-Wagging Tuesday. Elli is currently up with her "grandparents" in Virginia preparing to be boarded with their dog for us all to go down to Orlando. I miss my little furbaby so much...I have no one to cuddle with in the mornings after Tom has left for his internship or work!
Anyway...this week's topic is Your Pet's Favorite Toy
Well, Elli is very destructive with her toys. If it squeaks, she literally squeaks it to death. She crushes tennis balls, be-heads any stuffed animal...you get the picture. That being said, she really LOVES being destructive with her toys. Plus, I would rather her take out her destructiveness on dog toys and not her mommy's furniture, shoes, clothes...
This is Elli and her headless cat...she cuddles it like a baby doll!
For Christmas, Elli got a pink Wubba (made by Kong) and she loves this toy! Unfortunately I don't have any pictures of her with it yet, but just the pure fact that it has survived for four months is astonishing!
Go link up!