This weeks topic for Top 2 Tuesday over at
The Undomestic Momma
is the Top 2 Things You've Learned About Relationships. So without further ado...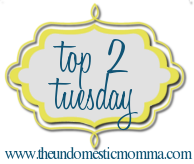 1.
Patience
: I've learned in my three + years with Tom that patience is definitely a major necessity in any relationship. I'm the type of person that likes things done a certain way and when they aren't done that way it overwhelms me and I can get frustrated and upset. I have learned that Tom and I aren't the same person and don't operate the same way...if we were it would be like marrying myself! I have learned to be much more patient with Tom when dealing with anything--from loading the dishwasher to deciding what to eat for dinner.
2.
Communication
: I know, this is the cliche thing everyone has learned in a relationship, but I am dead serious! Tom and I had to deal with two summers apart from each other and our relationship was reliant on talking over the phone and text messaging. I feel like being apart for those months made our relationship flourish--we couldn't just sit next to each other on the couch and just "be" with each other, we had to come up with things to talk about! We learned so much about each other and I am so thankful that we had to deal with a long distance relationship. I also think that communication, like patience, is important when dealing with frustrations or difficulties within a relationship. Without good communication skills, relationships can crumble. However, if you can talk with your significant other about what is bothering you, small problems can be solved before they become major issues!
I'll leave you with a picture of Tom and me from after a party in Charlotte when we stopped at Waffle House to eat...I was not a happy camper at first and was furious at my mom and Mark for making me go there in my pretty dress...turns out it was delicious!