I have been wanting to show y'all one of my Christmas presents, but keep forgetting to take a picture of it!
Thoughtless Thursday
is the perfect day to do it!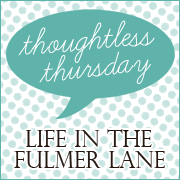 My dad and his girlfriend gave one of these picture frames to me and one to my sister for Christmas. It was absolutely one of my favorite gifts!! Unfortunately I haven't found the right picture for it yet...Betsy told me it has to be something "southern." My sister and I joked that we would have to pull out our hoopskirts for a picture (don't laugh, I used to maker her and me dress up to watch Gone with the Wind and then we would go play Little House on the Prairie in our neighbors playhouse...I was in middle school). We were totally kidding about a picture in the costumes now! I don't even think we could fit in them!