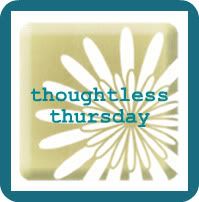 I thought that I would give "Thougthless Thursday" a try from
Katie's blog
. Here are some pictures from when Tom and I first started dating (almost 2 1/2 years ago!) that epitomize the goofy, zainty, loving relationship that Tom and I have with each other.
One of our first dates was to the bowling alley. Tom thought it was hysterical to take pictures of me laughing and I hated it at the time. However, now looking back on it, I love these pictures because it shows just how happy I was to be spending time with this awesome guy that I had just met!
Honestly, I have no idea what had happened to poor Tom's face right before this picture was snapped but I'm sure it had something to do with me swatting at him and him not moving (like the
scene
from "Friends" where Joey ducks when Ross is going to punch him...)
This picture is from when Tom took me home to meet his family for the first time. He took me to the beach and even though it was too cold to go swimming, we did take some very pretty pictures of us in front of the ocean!!
This picture is from a "typical" weekend in my dorm room at Elon my freshman year. My roommate dated a guy that went to another nearby college and she would go see him every weekend, leaving our room for me and Tom to hang out and watch movies in. This weekend he obliged my cupcake habit and bought a 6 pack. One thing led to another and we ended up getting in a cupcake fight, complete with icing on every fixture of the room, from walls to floor.
The most "momentous" event of our first year together was my being a debutante for North Carolina. Tom was a trooper; he held my hand through every party that we had to attend and even gave his input on what I should wear. These are a couple of pictures from some of the parties and the "big day."
Out of respect for my lovely boyfriend, this is the only picture I will post from this day. My little cousin Kelly was spending the day at my Mom's house and she wanted to play dress up so Tom and I agreed. Tom's hat was just the beginning--he ended up in an I Dream of Jeannie outfit. Poor Tom...always getting beat up on my the girls in his life!
Have a great "Thoughtless Thursday"!